Approved Used Electric Vehicle Offer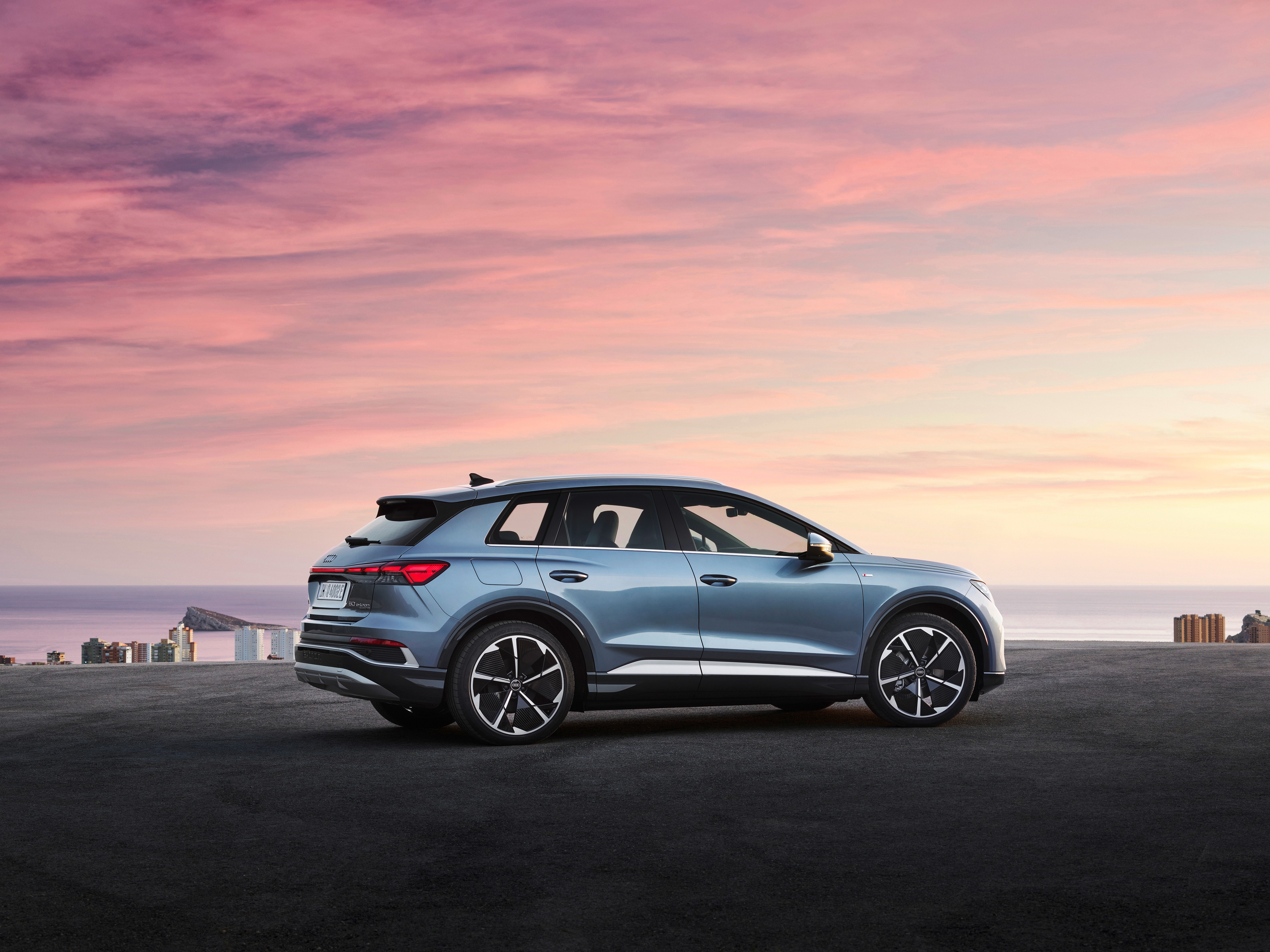 Approved Used Electric Vehicle Offer at Poole Audi
Poole Audi has some exciting news for customers looking to purchase an Approved Used Electric Vehicle. Purchase with Audi Solutions Personal Contract Plan until 31st December 2023 and you will benefit from two years peace of mind and a £2,500 finance deposit contribution.
This means that you can enjoy complete peace of mind knowing that your Audi is covered for many of its maintenance costs over the next two years. You can also experience effortless vehicle charging from the comfort of your own home with our Ohme charger offer, provided to you free of charge and including standard installation service.
Two years warranty
Two years key cover
Two years roadside assistance
Two free services
Up to two years MOT protection
£2,500 finance deposit contribution for cars up to eight years old
Free of charge Ohme home charger, including standard installation
11.9% APR Representative.
Terms and conditions apply.
£2,500 deposit contribution on vehicles up to 96 months old.
Service Plan covers next two consecutive services limited to 1 x Oil Service and 1 X Oil Inspection Service for petrol, diesel and plug-in hybrid models; 2 x Inspection Service, 2 x Pollen filters and 2 x Brake fluid changes for fully electric models. Excludes S (above 2.0L), RS, R8, and 6.0L/W12 models.
Warranty for vehicles up to 100,000 miles at point of activation. Valid until 31.12.23.
MOT Cover and Key Cover valid until 31.12.23, up to 2 years for Battery Electric Vehicles. Underwritten by UK General Insurance Ltd on behalf of Watford Insurance Company Europe Limited and administered by Lawshield UK Limited. Exclusion apply for MOT Cover and tests are not included, please ask for more details.
Retail Customers who purchase an Audi Approved Used Audi fully electric vehicle on Solutions Personal Contract Plan finance from Volkswagen Financial Services, from a participating Audi Centre until 31 December 2023 inclusive, and take delivery of this vehicle by 31 December 2023 inclusive, can receive either:
a 7kW Ohme Home Pro home EV charger (tethered) with standard installation; or
b 7Kw Ohme ePod home EV charger (untethered) with standard installation.
The incentives are subject to the terms and conditions set out below. A customer is not entitled to receive both of these incentives.
A customer is not entitled to receive both EV chargers.
This offer is open to UK residents, aged 18+.
To receive the Ohme home EV charger, you must be (a) a homeowner or (b) a renter with the landlord's permission, and in each case have off-street parking at the property. You must be a full time resident at the address where the home EV charger is installed.
Fleet customers (limited companies and other businesses with five or more vehicles) are not eligible to participate in the offer.
The Home EV charger must be ordered from Ohme via a participating Audi Centre at the time of purchasing your Audi Approved Used Audi fully electric vehicle. Please request the offer at the time of vehicle purchase to ensure your order is placed by the Audi Centre. Home EV chargers are not available retrospectively. Please speak to your Audi Centre for more information.
Offer is subject to availability and we reserve the right to withdraw this offer at any time.
Ohme's standard terms and conditions of sale shall apply in relation to all home EV charger(s) supplied under this offer. App download and compatible equipment required. Not for commercial use.
The home EV charger included in the offer is either a 7kW Ohme Home Pro (tethered) with standard installation only or 7kW Ohme ePod (untethered) with standard installation only. The availability of standard installation depends on various factors including the age and condition of the existing wiring at the property and the location of the nearest electricity point/meter. To find out whether you are likely to qualify for standard installation, please visit here; https://prismic-io.s3.amazonaws.com/ohme/fd70691a-5246-4b18-a881-72695b4a3d38_Standard+installations.pdf
Standard installation is subject to survey. [You will have the option to choose between a untethered or tethered unit].
Supply, installation and maintenance of the home EV charger will be subject to a separate contract between the customer and Ohme. Neither Volkswagen Group United Kingdom Limited trading as Audi UK nor the Audi Centre can accept any responsibility in connection with that contract and any customer queries or claims must be directed to Ohme. Customers will need to liaise directly with Ohme in connection with survey and installation.
Any costs, for example, late cancellation fees, aborted visits, physical home surveys, additional accessories, home EV charger upgrades, non-standard installation, additional installation works, or installation after 31 December 2023 must be paid for by the customer.
If the customer rents their property, then they are responsible for obtaining the landlord's permission for the installation. All other permissions and consents are also the responsibility of the customer.
The home EV charger is only available for installation at a residential address owned by the Audi customer (or rented by the Audi customer, with the landlord's permission) with off-street parking and electrical capacity sufficient to support the home EV charger (unless otherwise agreed specifically with Audi UK and Ohme).
Home EV chargers are non-transferable and non-refundable and there is no cash or other alternative available under this offer. However, Audi UK reserves the right to include a different home EV charger and installation, of equivalent or greater value, within the offer.
If a qualifying vehicle for the offer is cancelled and an alternative Audi Approved Used fully electric vehicle is not repurchased in place of the cancelled vehicle after installation, then the customer will be liable to repay Ohme the fees paid by Audi UK in connection with the home EV charger and standard installation. If the customer cancels the qualifying purchase before the installation has taken place then no charges will be made and they will no longer be entitled to a home EV charger with standard installation through this offer. This does not affect customers' statutory rights.
Installation must take place prior to 31 December 2023 in order for customers to receive the benefit of the offer.
For customers who are eligible for the Government electric vehicle (EV) chargepoint grant (worth up to £350 – only available to homeowners who live in flats and consumers in rental accommodation), Audi UK will fund the remaining cost of the home charger with standard installation after the OZEV grant has been applied. Ohme will identify customers who are eligible and will support them through the grant application process.
For most customers who are not eligible for the EV chargepoint grant, Audi UK will fund the whole amount payable to the value of this offer.