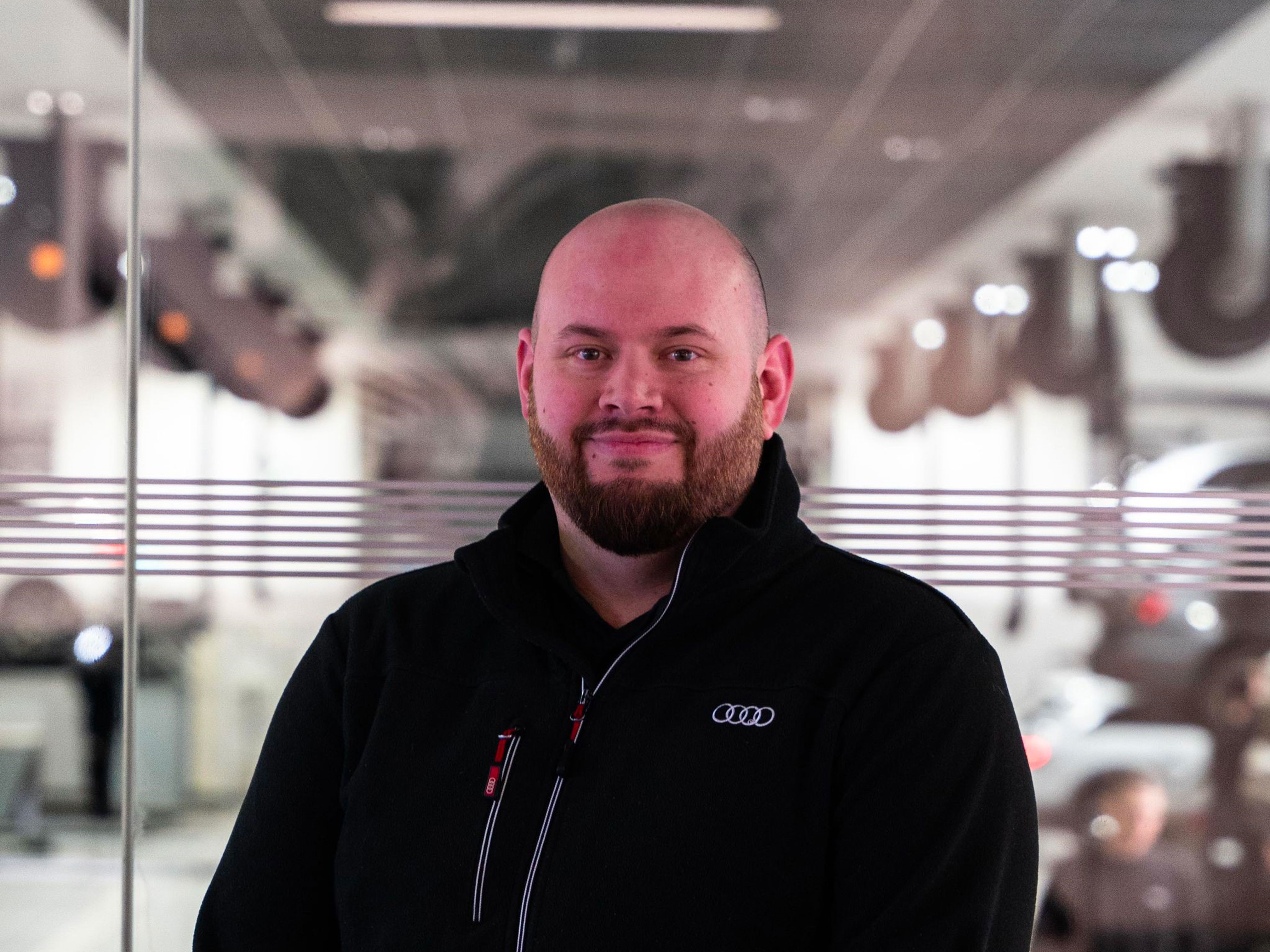 Meet the Team - Alasdair Bone
When did you start working for Poole Audi?
I began working for Poole Audi in November 2014 as an Audi Technician. When I started the role, I attended a two-day course called 'Think Vorsprung'. Across the two days, I was taught all about Audi as a brand, their history, goals, and all about the technical side of the job. I really enjoyed the course, and it was great to be immersed in the brand and its culture right from the beginning.
What's your current job title?
In January, I completed an Audi Master Technician Assessment and having passed this qualification, I've been awarded the job title of Audi Master Technician.
What's been your favourite experience so far?
My favourite experience so far would be working on some of the more high-end Audi vehicles, such as the R8. I have also enjoyed learning about high-voltage batteries, how to maintain them correctly and getting the approval to work on them.
What do you like most about your job role?
I love that every day is a fresh challenge. Some jobs we do are very quick, and others are a lot more in-depth and complex. With new models being released all the time, it's a real chance to develop my knowledge and gain even more experience as an Audi Master Technician. I also get to communicate with our customers whilst servicing their cars which is something I hadn't experienced with previous jobs. I think it's a very important aspect of the job as I get to discuss any issues that may arise during the service and put the customers' minds at ease. It's not only meant that I've gained new skills in customer service, but that we can also save time within the company.
Why Poole Audi?
After working for other automotive brands in the past, Poole Audi has more of a personal, family feel which is a really positive environment to work in. There are also lots of different courses and qualifications available to help you gain more experience in your job role.
What are you looking forward to in your future with Poole Audi?
I am very pleased with my recent Audi Master Technician qualification, and I am excited to learn more in the future as technology evolves.
What is your favourite Audi and why?
My favourite vehicle is the Audi e-tron S Sportback. It's a very stylish car, it's big, practical, and powerful.
However, the car I enjoy working on the most would have to be the Audi R8 V10. I take pride in making sure I do the best job for our customers and take great care of their cars.
Would you recommend working for Poole Audi?
I would 100% recommend working for Poole Audi and I have already encouraged a few of my previous coworkers from other companies to apply. It's great working with people you've known a long time and the automotive industry is a fantastic place to make new connections.
Tell us something interesting about yourself?
An interesting hobby I have is teaching scuba-diving. I do this all along the Dorset coast and love how peaceful it is. It's a great way to relax and enjoy the area we live in… sometimes I even bring back dinner!
Latest News