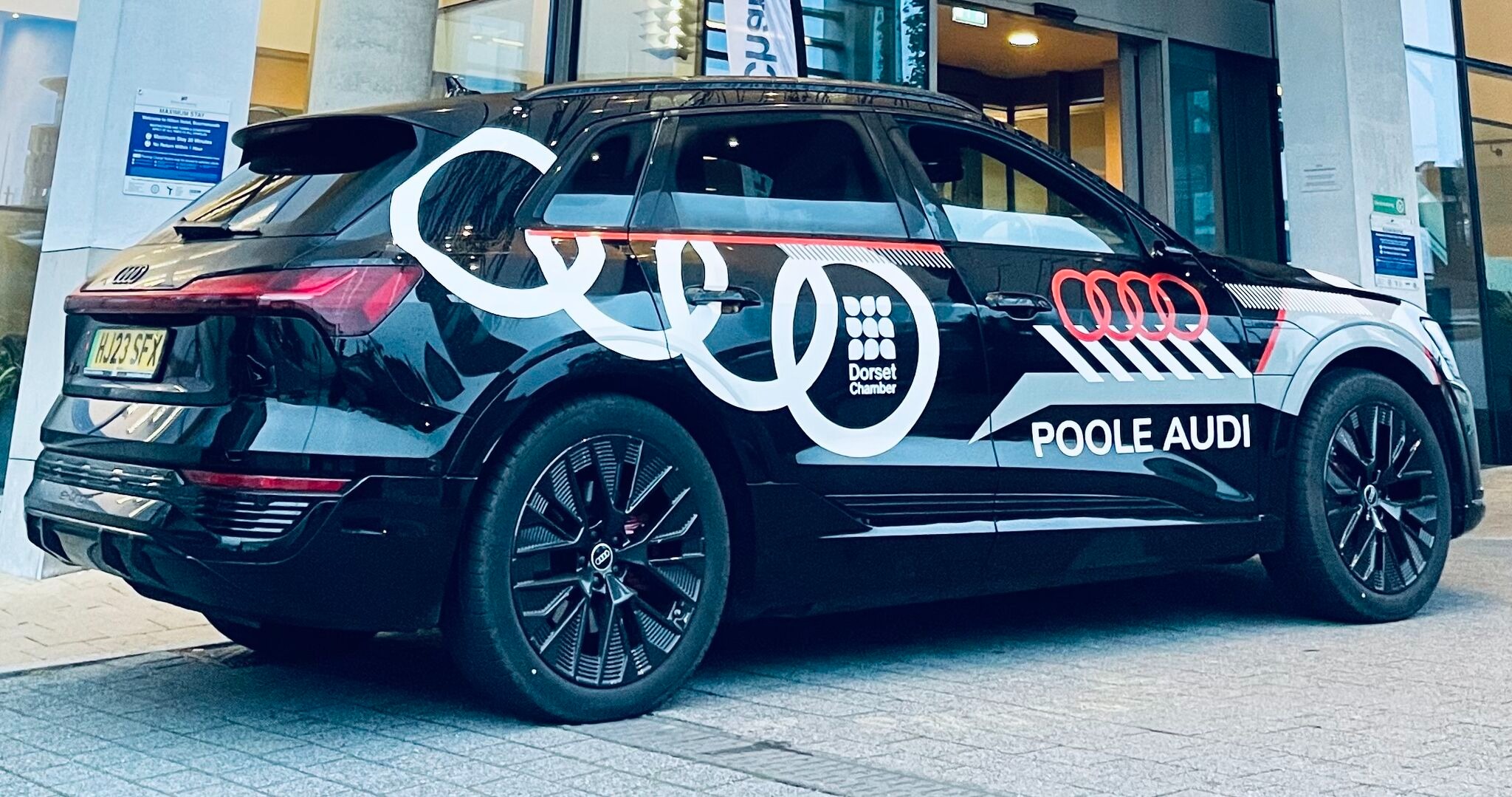 Paul Taylor from Dorset Chamber reviews the Audi Q8 e-tron
Paul Taylor is the Business Development Manager for the Dorset Chamber of Commerce. He drove an Audi Q8 e-tron for a week to get an in depth understanding of what it is like to live with an electric vehicle and shared his thoughts online, and in the upcoming Dorset Business Focus Magazine.
Last week during the Dorset Chamber Festival Week, Poole Audi kindly loaned me the new Audi Q8 e-tron electric vehicle (EV), with a challenge to see what it's like living with an electric vehicle.
Picking up the car up on Saturday with a range of 245 miles, I completed 200 miles over the week and returning the following Saturday the Q8 e-tron was showing 105 miles remaining range, due to regenerative braking. The electricity generated through regenerative braking is typically directed back into the vehicle's high-voltage traction battery and then stored for later use. I thought range anxiety would be an issue, but I didn't feel this at all throughout the week.
I didn't experience any concerns about charging the Q8 e-tron as I didn't need to charge the car all week. I don't have a home charging point, but we do have one at Dorset Chamber office. There are three methods of charging: rapid chargers which are normally at commercial premises (on this car recharging can take as little as 20 minutes), a home charger, or even a normal 13amp plug charger which is slowest of the options. As electric vehicle adoption increases, addressing charging station anxiety for longer journeys is crucial for promoting confidence in ownership and encouraging more sustainable transportation choices.
In conclusion, owning an EV is a positive choice for the environment, especially if you do mostly town centre driving. It also offers several financial advantages especially via your business or salary sacrifice. However, if you do long journeys on a regular basis it's still worth considering an EV, as this Audi Q8 e-tron has a range of over 300 miles. I notice that there are plenty of private sector businesses and commercial premises now investing in their own infrastructure and putting their own charging stations in for clients and customers to use, which will make it even better over time to charge your EV.
The main thing with EV driving is accepting a slight change in mindset and your driving style. To be honest I thought I was very sceptical going into this week, but I can say I have been converted. I would highly recommend when you are due to change your next car that you go and try an EV and see what you think, you could be in for a pleasant surprise.
Please check out our next Dorset Business Focus magazine for a full test drive review.
Latest News