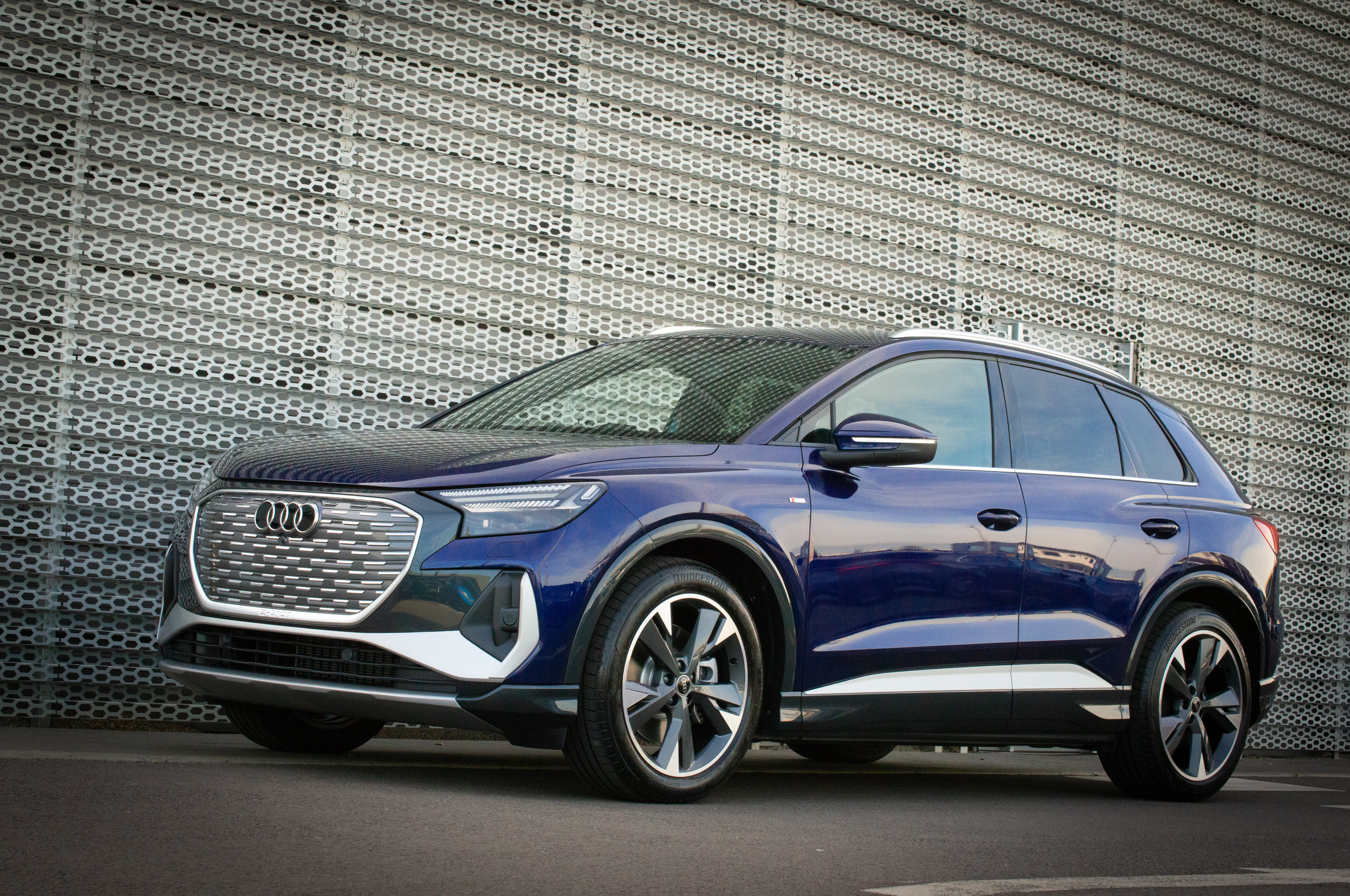 The all new Q4 e-tron is now available
The pioneering electric drive of the e-tron, the unmistakable design aesthetic of Audi: both come together in Audi's first compact, fully electric SUV
Available in 35 and 40 battery/powertrain variants with a range of up to 208 and 316 miles respectively
Both can recharge from 5 to 80% in 38 minutes when using a rapid charge public station - easily topping you up during a coffee break. At home, a domestic charging wall box with a capacity of 7kW AC will comfortably allow you to replenish the battery overnight.
A wide and ever-growing network of charging stations gives you peace of mind for longer journeys
For company car drivers the Q4 e-tron falls into the 1% Benefit-in-Kind band for the 2021/22 tax year. As such 20% of taxpayers will pay from just £6.78 a month in BiK and a 40% taxpayer just £13.57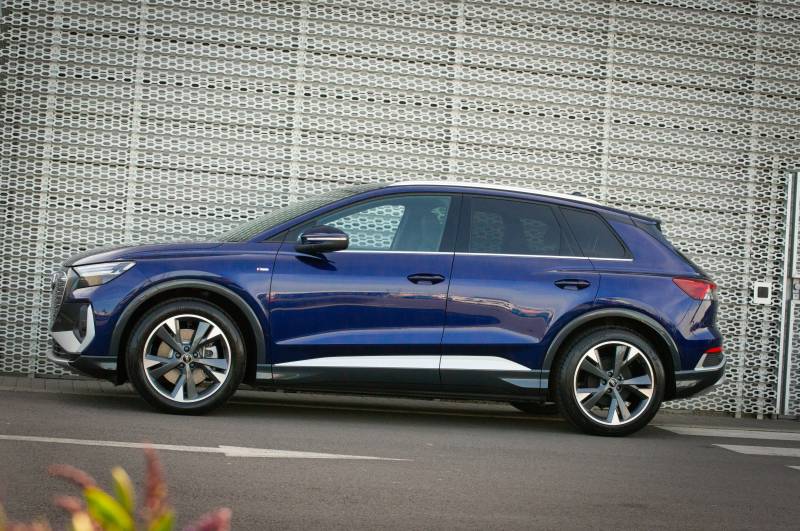 Powerful options.
Initially, the Q4 e-tron comes with a choice of two batteries and two powertrain variants; the 35 e-tron, with a compact 52kWh battery producing 170PS and a range of up to 208 miles – or the 40 e-tron, with a large 77kWh battery delivering 204PS and a range of up to 316 miles. Both are rear-wheel drive – while later this year the even more powerful Q4 e-tron quattro, featuring the renowned Audi all-wheel-drive system, will also be available. Q4 Sportback e-tron battery and powertrain information will be available at a later date.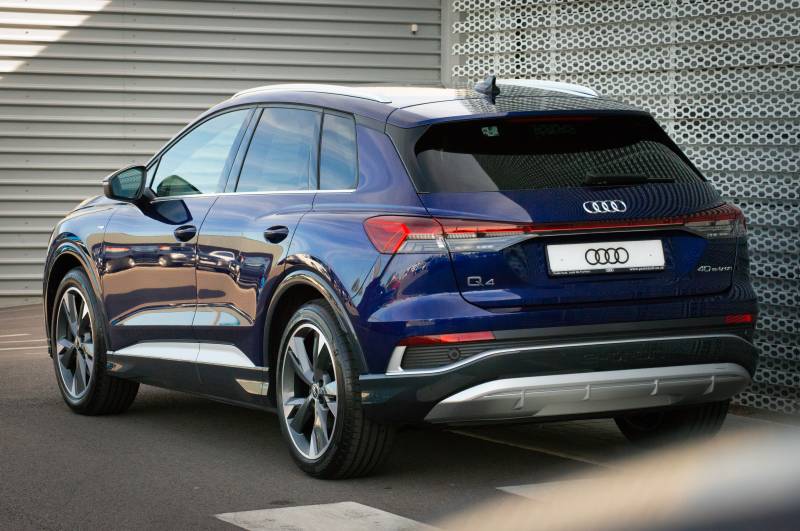 Distinctive by design.
The Q4 e-tron makes a statement - its strong and precise lines give it an assured and sophisticated presence. A powerful body with a high front, wide stance and large wheels suggest the strength of an SUV. While the large, enclosed single-frame grille signifies it as an electric Audi. The Q4 Sportback e-tron model adds a dash of coupé to the SUV; its sloping roofline creates a silhouette that arcs rearwards and ends with a horizontal spoiler at the lower level of the rear window's edge. As a final flourish, a dramatic light strip - part of the optional Matrix beam package - illuminates the entire rear width of the cars.
Fast charging.
When it's time to recharge, the 35 e-tron has a 100kW DC charging capability and the 40 e-tron has 125kW. This enables both to recharge from 5 to 80% in 38 minutes when using a rapid charge public station - easily topping you up during a coffee break. Back home, a domestic charging wall box with a capacity of 7kW AC will comfortably allow you to replenish the battery overnight.
Technologically advanced.
The Audi Q4 e-tron models are packed with the latest Audi innovations: a first for Audi a new optional head-up display uses augmented reality to project driver information seemingly onto the road. Another first is the optional SONOS premium sound system, while standard equipment includes Audi Virtual cockpit; MMI Navigation plus with a 10.1" touch screen, and a double-spoke design steering wheel with the touch-sensitive operation.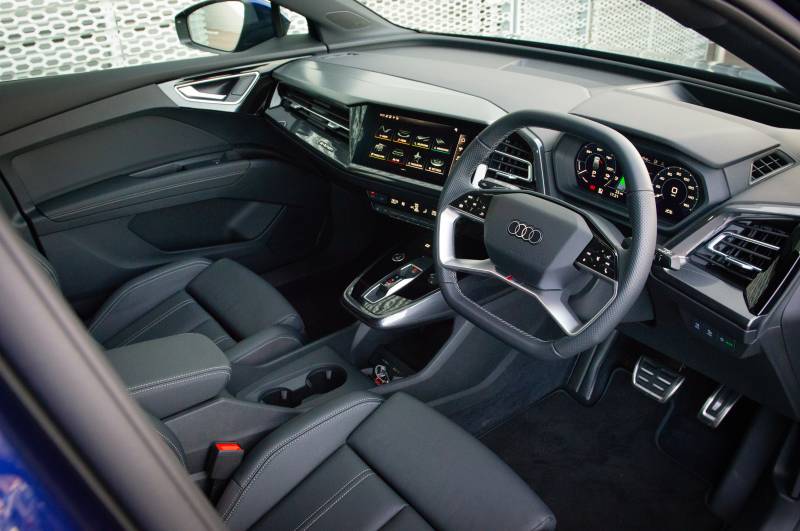 Compact yet spacious.
Free from the conventions of combustion power, Audi designers have created a new kind of cabin for the Q4 e-tron models. The absence of a powertrain 'tunnel' along the middle yields considerably more knee and legroom. Even with its compact design, there's up to 520 liters (Q4 e-tron) / 535 liters (Q4 Sportback e-tron) of luggage space, plus an array of clever storage compartments that make it the ideal family all-rounder. And, with most controls contained within the touch screen and next-generation, multi-function steering wheel, the futuristic dash has a modern, clutter-free look.
If you would like to view the Q4 e-tron, please email sales@pooleaudi.co.uk or call 01202 983727.
Range dependent on trim and optional equipment. All vehicles are tested according to WLTP technical procedures. The figures shown are for comparability purposes; only compare fuel consumption, CO2, and equivalent electric range figures with other vehicles tested to the same technical procedures. These figures may not reflect real-life driving results, which will depend upon a number of factors including the accessories fitted (post-registration), variations in weather, driving styles, vehicle load (and, for battery electric vehicles, the starting charge of the battery). Figures for battery electric vehicles were obtained after the battery had been fully charged. Battery electric vehicles require mains electricity for charging. Zero emissions while driving. Figures quoted are subject to change due to ongoing approvals/changes and the range figures may include options not available in the UK.
Charging times will depend on various factors, including temperature, state of the battery, state of and capabilities of the charging unit, and power supply. Actual charging time will vary depending on the level of charge in the battery, as well as environmental conditions. Charging times will also be affected by the charging curve for example once charging passes 80%, charging will slow to protect the battery's longevity.
Benefit-in-Kind figures based on Audi Q4 35 e-tron Sport. Ocean Automotive Ltd (t/a Poole Audi) does not offer tax advice and recommends that all Company Car Drivers consult their own accountant with regard to their particular tax position.
Latest News